Cream 2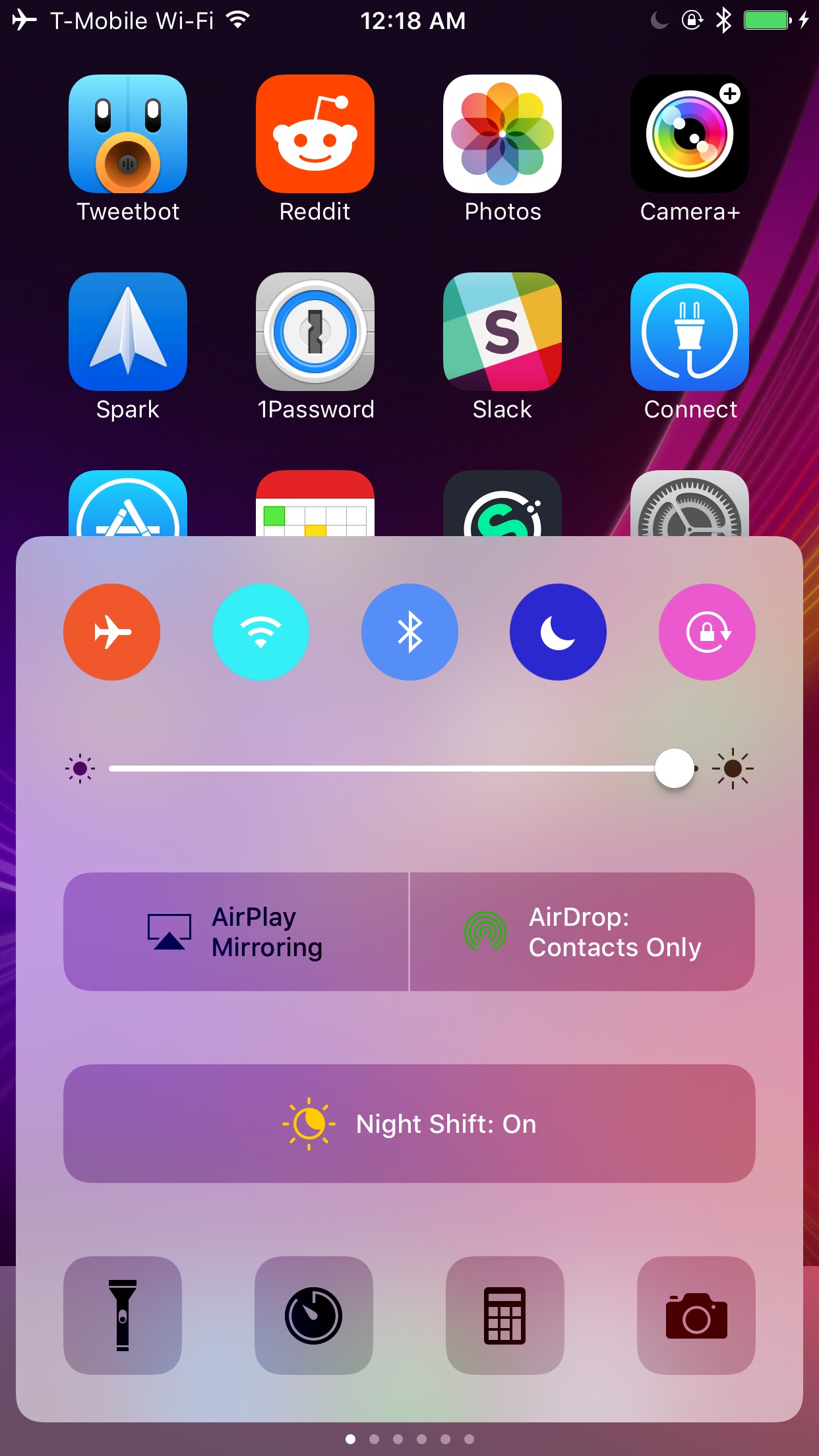 Compatible with iOS 10

Cream 2 for iOS 10 allows you to customize the colors of each Control Center toggle as well as the glyph color of AirDrop, AirPlay and Night Shift buttons.

Configure options in Settings
Slices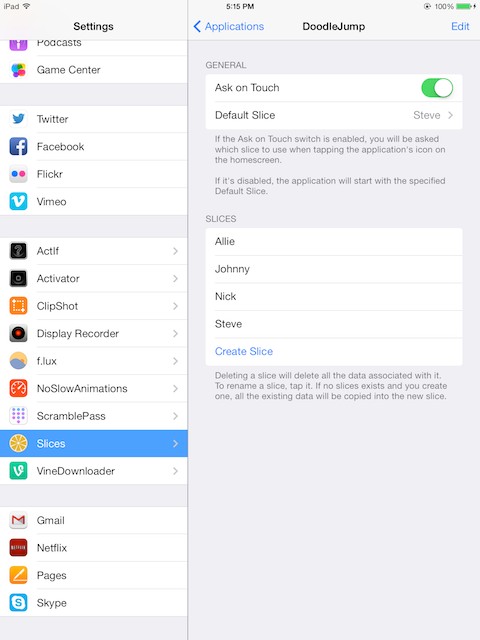 This item is now Free.

Compatible with iOS 7, 8 and 9.

Have multiple Instagram or Snapchat accounts? Are you sharing a device with others? Don't want to overwrite your high scores on a game? If so, Slices is perfect for you.

Slices allows you to create many different setting and data bundles for any user application. The process is as simple as tapping and naming a slice. These slices can easily be switched between, and all data is completely separate each slice.

For example, if you don't want your high score on a game to be overwritten with someone else's score using your device, you can quickly create them a slice for that game and the scores will be specific to that slice. Another example is if you have many accounts on a social network. Usually, you would sign in and out to change accounts. With slices, you can reduce it to 2 taps to change to any one of your accounts (no login needed).

Specific slices can also be easily renamed, deleted, and created in the Settings application. Preferences such as whether or not to ask which slice to change to when launching the application or which slice is the default slice can also be configured through the Settings application.
ColorMeBaddge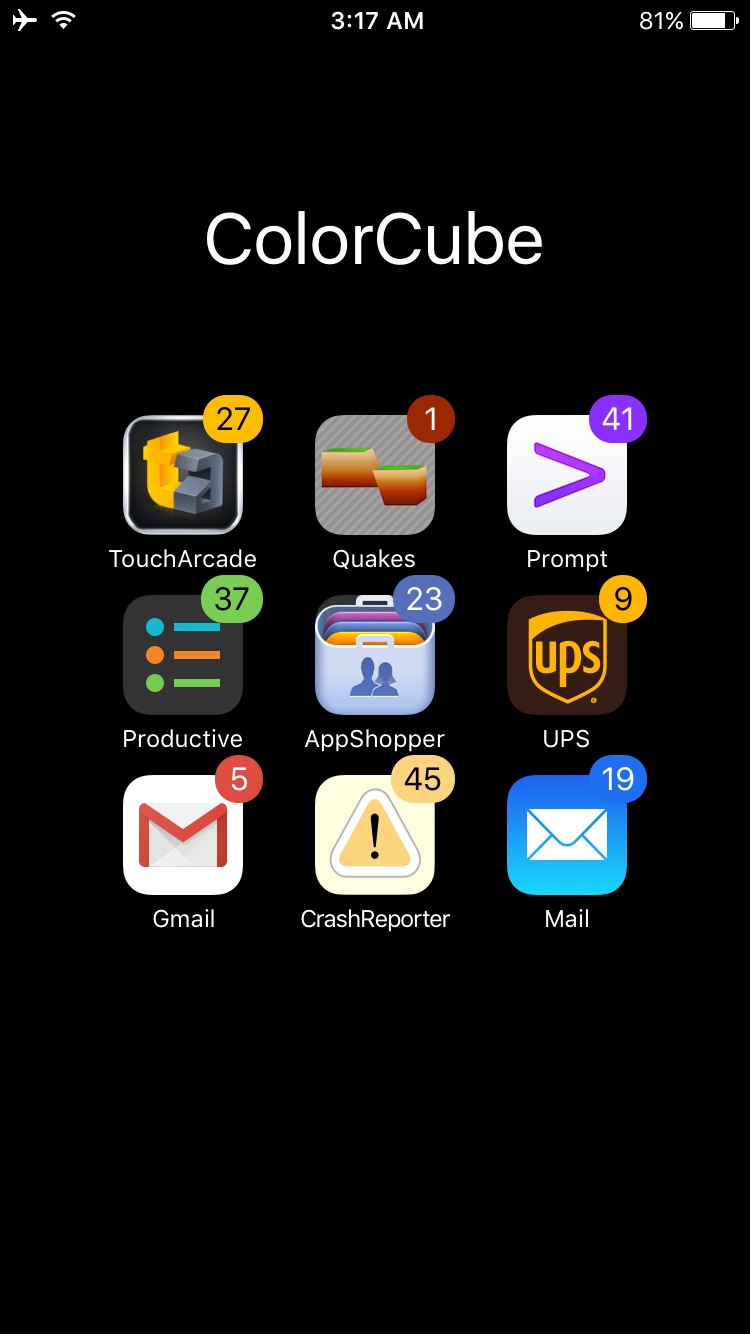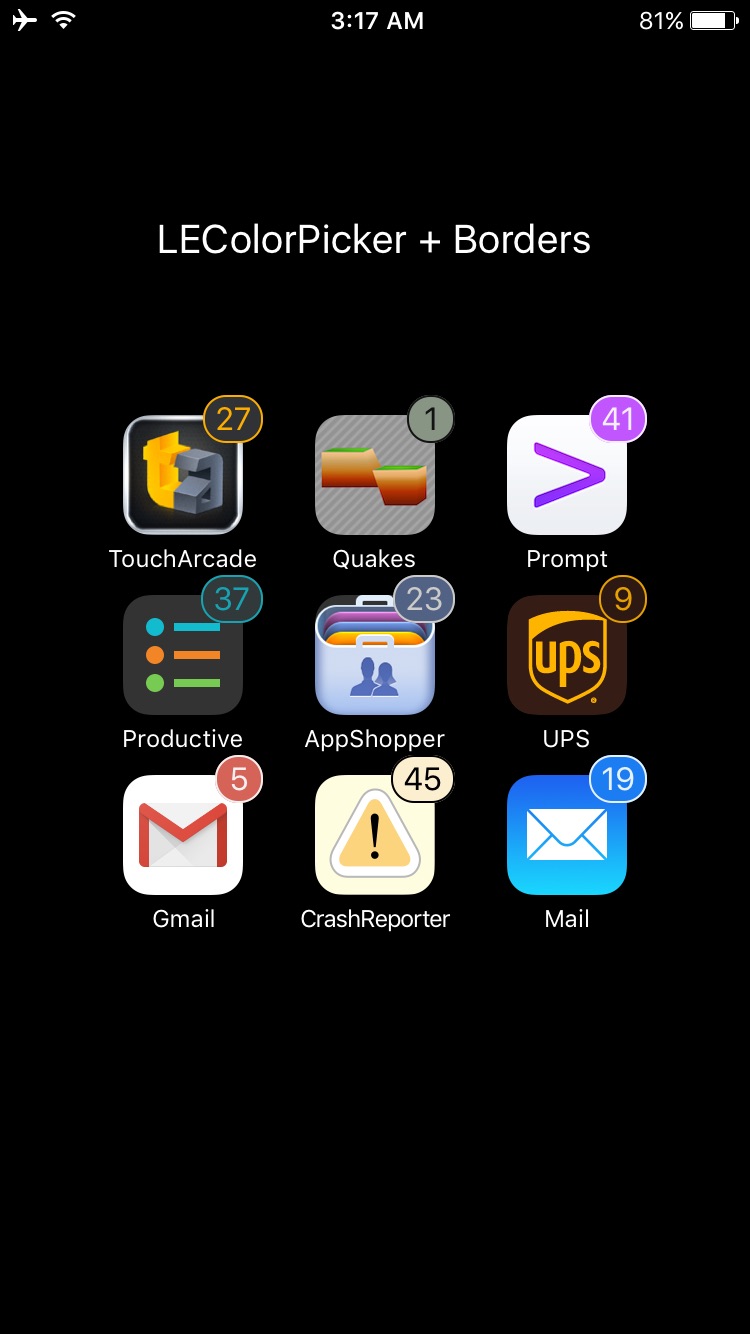 Compatible with iOS 8.4 - 10.2

Sex up your badges with icon-based colors that feel so right it can't be wrong!

App Badge Color

Colorize your app badges using a variety of colorization algorithms: Fixed Color, ColorCube, LEColorPicker, Boover, ColorBadges (if installed)

App Badge Text Color

Set a custom color, use a color provided by the chosen colorization algorithm, or let it be chosen black or white based on badge color brightness (see Brightness Settings below).

Folder Badge Color

Give your folder badges a fixed color, the color of one of its contained badges (lowest / highest / first / last / random badge), or an average color of all contained badges (normal or weighted). You can even have the color chosen from the folder minigrid as if it were an app icon, according to your app badge color preferences.

Folder Badge Text Color

Set a custom color, use the color of the contained badge (if applicable), or let it be chosen black or white based on badge color brightness (see Brightness Settings below).

Special Badges

Some badges are not numeric and act more as alerts, such as the Messages delivery failure "!" badge. If desired, you can assign custom colors for these badges so that they stand out.

Brightness Settings

For badge text colors chosen by brightness, you can choose the color space used for brightness calculations (RGB or CIELAB), and the brightness threshold above which black text is chosen over white text.

If you prefer to always have white or black text, you can choose to have the badge color darkened or lightened just past your chosen brightness threshold (if necessary), so that your desired text color is chosen.

Miscellaneous Settings

You can choose to use unmasked app icons, so that app badge color algorithms can access pixels that are normally not visible on the screen due to icon masking. This may affect the chosen color for some icons.

If you're enjoying the splashes of color want to see as many badges as possible, you can choose to allow all app icons to display their badges, even if disabled in Notifications.

KNOWN ISSUES

The third-party color picker used in this tweak doesn't work well in landscape mode. To work around this, please pick colors in portrait mode.

Configure options from Settings.
Telt X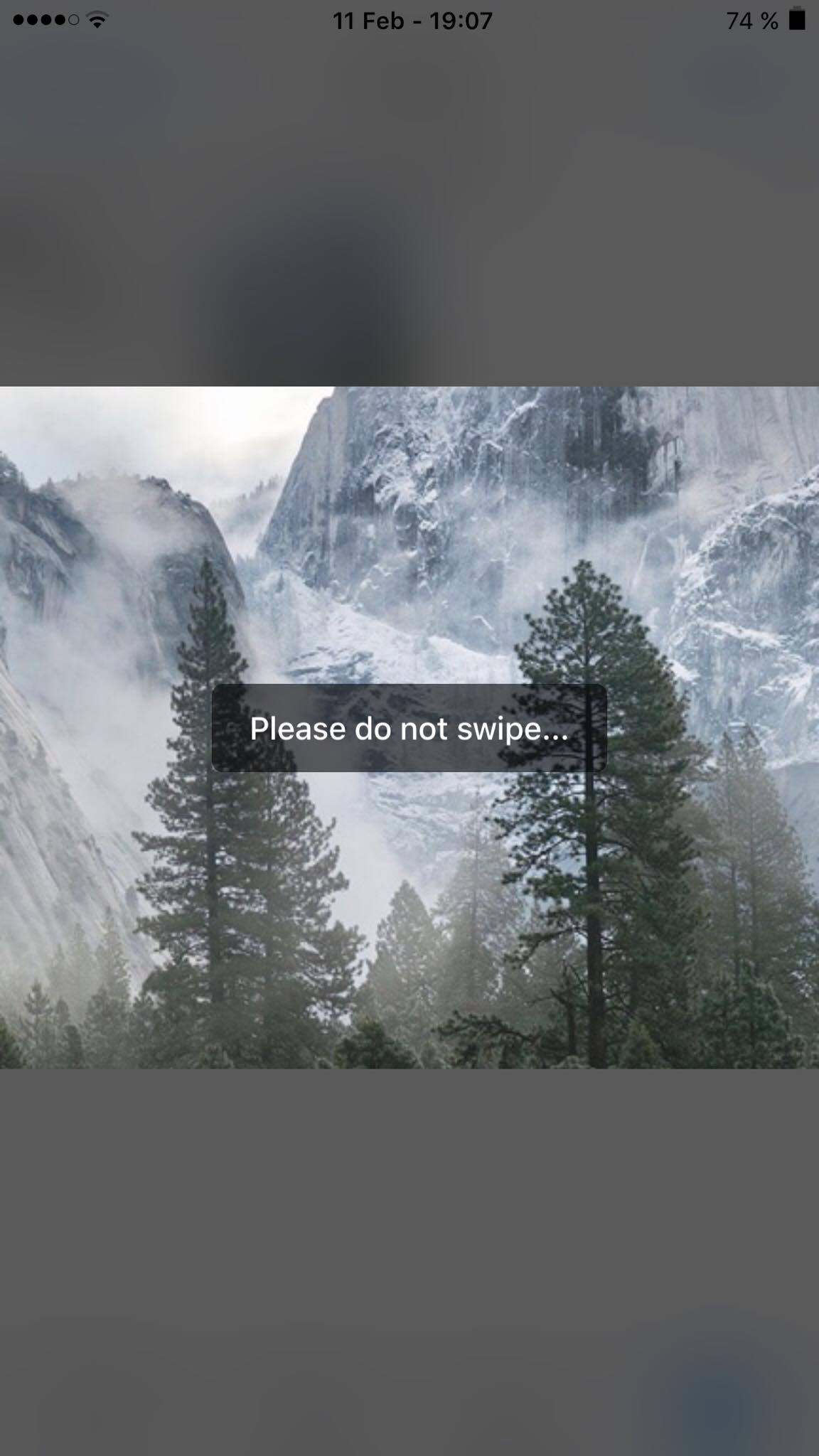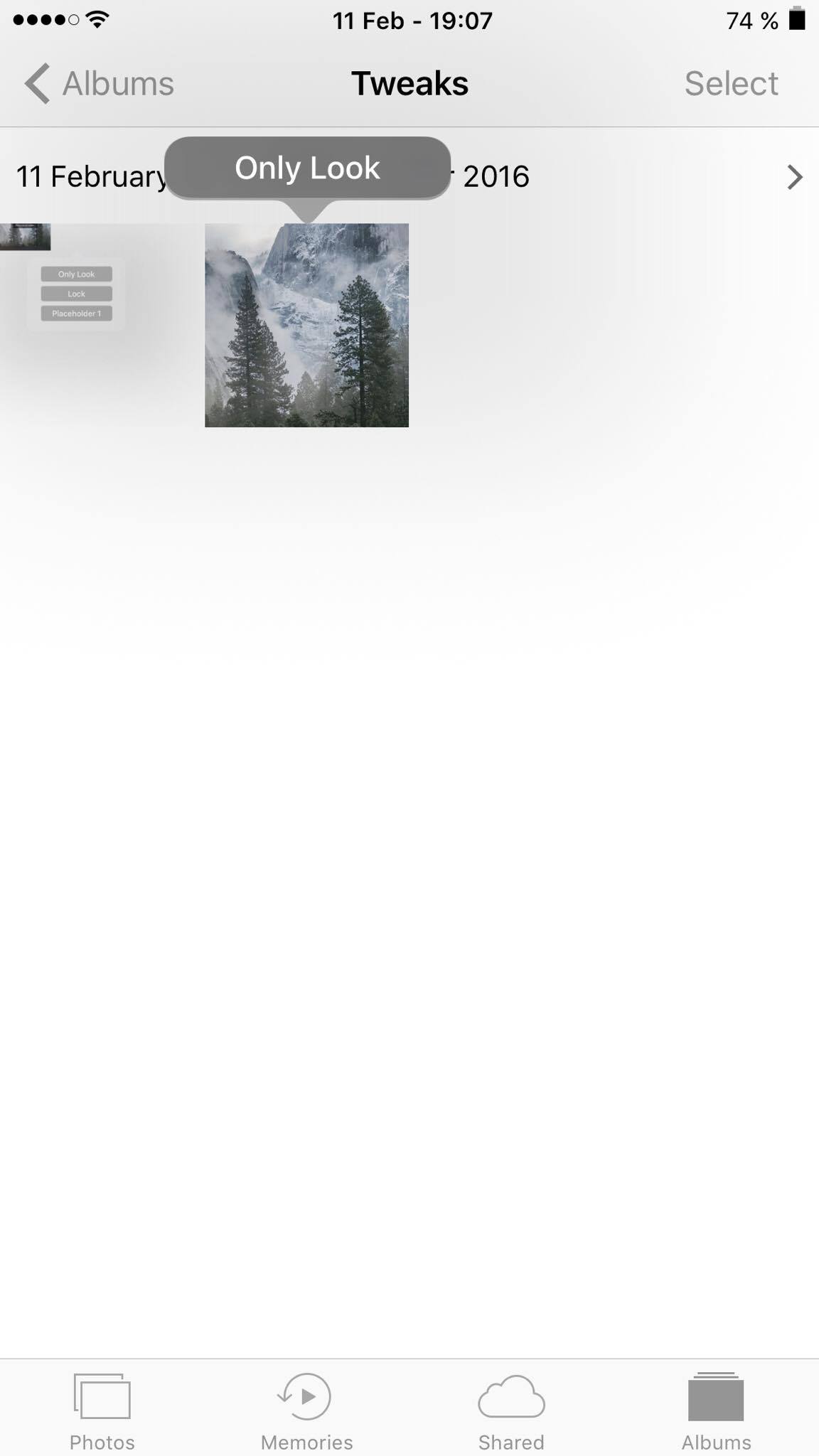 Compatible with iOS 10

Tired of people starting to swipe through your photos when you just wanted to show one photo? This tweak fixes just that!

When inside an album, you can long press on an image and the option to enable "Only Look" mode will be presented to you. If you enable this, a new view with your image will be opened. In this view you can zoom in and out on the image, but not swipe to change picture. Like many want to do without my permission... When you are done in Only Look mode, just double tap on the image to dismiss it!

Telt X features:
* Only Look mode! Keep those pesky swipers away!
* Double tap on the image when in Only Look mode to dismiss (don't tell your friends about this, though)! * Easy and beautiful UI.
* No options to configure.
* Very lightweight!


Tested on iOS 10.2 w/ Yalu 102 B7 (iPhone 6 Plus)
Userscripts Loader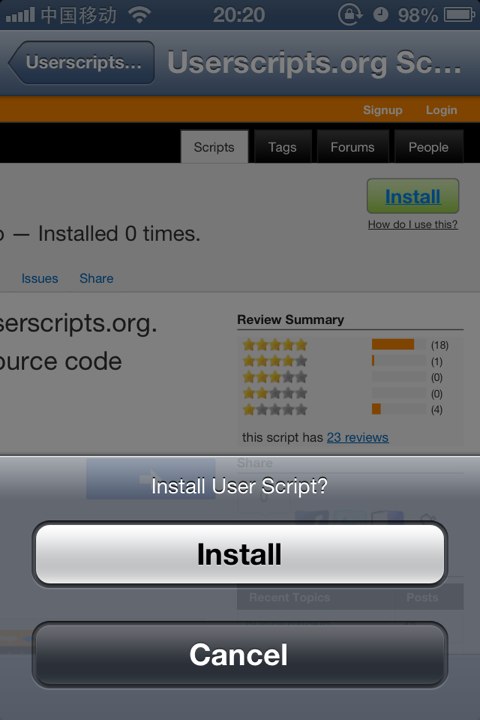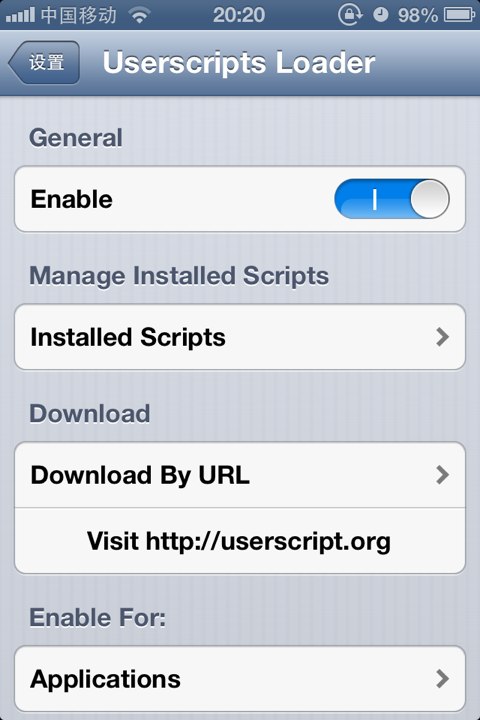 Compatible with iOS 5, 6, 7, 8, 9, 10
Bringing userscripts.org support to iOS, enabled for Safari and other apps.
Configure options from Settings app.