Qualcomm, the chipmaker known as Snapdragon, unveiled a new version of Quick Charge 4+, featuring a cooler 3 degrees, 15% faster, and a 30% savings on the latest Snapdragon processor. 835 after the previous charger only 15 minutes but can charge up to half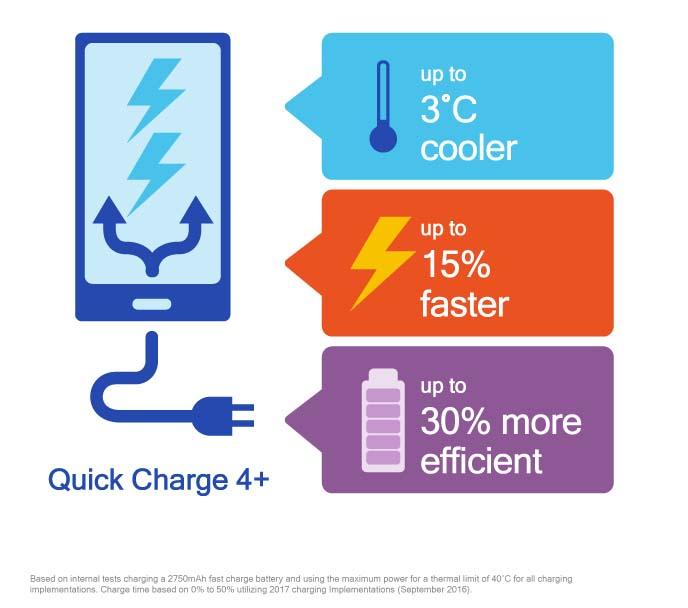 Qualcomm launches Quick Charge 4+
For Quick Charge 4+ devices, all of the benefits of Quick Charge 4 can be traced back to the following three benefits.
Dual Charge: Second Power Manager To help lighten the load. The machine has less heat during charging. It also helps to reduce power loss during charging. As a result, faster charging.
Intelligent Thermal Balancing: Optimizes Dual Charge, so charging is temperature balanced. It will automatically move to the coldest charging route automatically.
Advanced Safety Features: Monitor temperature while connecting at the same time. This special protection prevents overheating. And short-circuit or damage to the Type-C connector.
With all this, the device can charge up to 15% faster or 30% faster compared to power management is more effective compared to Quick Charge 4.
Chargers, adapters, car chargers, backup batteries, and Quick Charge 4+ USB hubs are compatible with Quick Charge 3.0 and Quick Charge 2.0.
According to the news that the team has reported on the nubia, Z17 will be the first smartphone to support Quick Charge 4+.