The World Pride 2017 is here.
Madrid is
proud
to be the host city of love these days.
And although the celebrations began on June 23, we could say that the big days of these celebrations will be lived during this weekend.
In NewCydiaTweaks, we also want to celebrate the LGTB Pride and why we bring you the essential apps so you do not miss anything either.
World Pride 2017 with your smartphone
-Live Chueca.
Official World Pride 2017 App:
The official application of these holidays will be very useful to know all the programming and information about the events that you will find in the Spanish capital.
Concerts, conferences, parties ... In addition to this application will show you different points of interest such as restaurants, medical and security posts.
You will even find public restrooms.
You can download it
here
.
- Official Guide Welcome to Madrid:
Not everything is going to be party these days.
If you fancy visiting interesting places of the community like museums, palaces, parks, restaurants and even have some guided tour ... this is your application.
You can download it
here.
-Wave Let's Meet App:
this is one of the must have for any event where there is a multitude of people.
With it you will be sharing your location in real time with your friends and so you can find them easily.
Say that if any of them has not downloaded this application, it will not be problem and it is that you will be able to share a link with your position.
You can download it
here
.
-Inteurbanos Madrid:
May the name not deceive you.
With this application you will be able to find maps, schedules and to see routes in public transport either in urban bus, interurban, as well as Metro and Renfe Cercanías.
An essential app for all those who live in Madrid, or who visit on days like these.
You can download it
here
.
-Car2go:
If that public transport does not go with you or you prefer to avoid crowds in them, we recommend this app with which you can find an electric car at your disposal very close to you to move where you want.
You can download it
here
.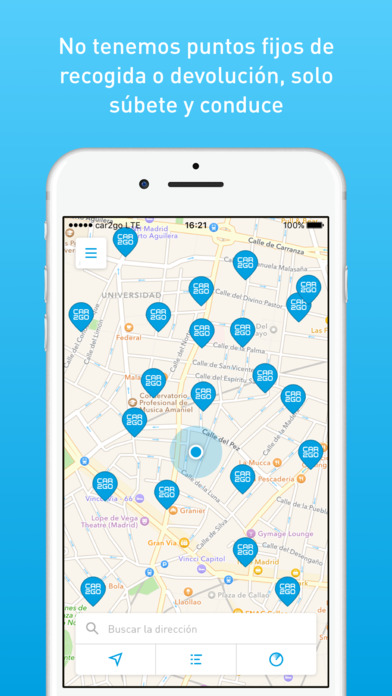 -eCooltra:
Like the previous one, but changing the car on the bike.
Definitely one more way to avoid the collapse of public transport and to move with a vehicle much more agile than a car.
You can download it
here
.
-Couchsurfing Travel App:
Maybe the prices of hotels will be off budget.
Or you may have had the bad luck not to find a place in any of them.
So why not sleep in the street.
With this curious app you can find people who, unselfishly, give you a place to stay in your house.
Of course, be careful who you stay with because you already know that sometimes you can find people with not so good intentions as those of the people who created this app.
You can download it
here
.
-Moovz:
This application will connect you to other users of the LGTB community around you.
With a nice and intuitive design you can meet new people very close to you.
You can download it
here
.
-Pridefest:
During the trip to Madrid or during your stay there you can spend the hours playing without needing to leave the LGTB environment and is that, with this game, you can pretend to be the mayor or mayor of a city to be returned The color based on laws, buildings, organize parades ... And all LGTB-themed.
You can download it
here
.
If you are from Madrid you should know and use these apps during these holidays, if you are not from the capital you will also be welcome or welcome and
these applications will make your experience in World Pride 2017 even more interesting.
You may be interested to know that Apple has launched an
Apple Watch belt to support the LGTB collective.