When talking about Augmented Reality nobody wants to stay behind and under this approach Snapchat has made its latest update of filters called "Sky Filters".
With this tool,
users can change the sky of their images by totally different tones and go that flashy.
This recent update adds to the efforts made by the company not to stall its growth - undoubtedly affected by the arrival of the Instagram Stories - as happened with
animated Bitmoji, motion tracking tags and their constant renewal filters.
Also, the ghost social network surprised us with the tool based on Artificial Intelligence when it introduced
the "Crowd Surf" function
that takes several videos and live events clips as concerts and joins them in a final video.
Snapchat introduces filters "down from the sky"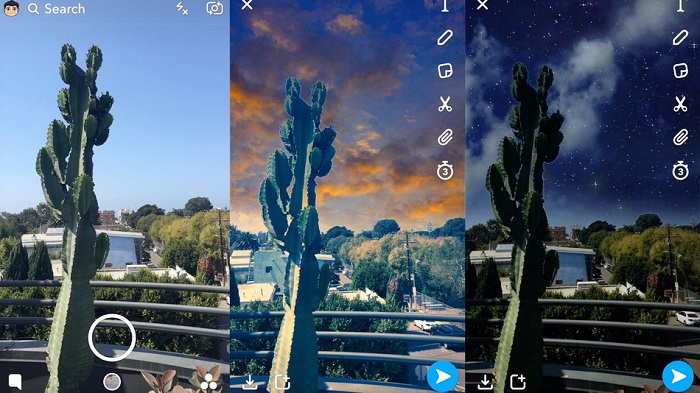 To use this alternative, the application recognizes the sky in the photos that have it and shows the users a series of filters to change it.
From this first series you can choose between a starry night, stormy clouds, beautiful sunsets, rainbows.
And if you like one, do not hesitate to try it as
the options will change every day.
Yes first, it is difficult to choose one,
you can slide the options to the left and try them until you find your favorite.
The result is quite artistic, giving a fresh look to the original image.
Bring the bitmoji to life with the new 3D lenses.

Use Sky Filters to paint your world with stars, rainbows and other effects.

Create stickers on your friends' faces automatically by touching the scissors inside the stickers menu.

Create Geofilters for events, parties and more, directly on your mobile.