Flip app Vacation Makeover One
YouCam Makeup
is makeup products and beauty products to hundreds of free trial via camera phone.
Another app that girls should have.
YouCam Makeup-Magic Selfie Cam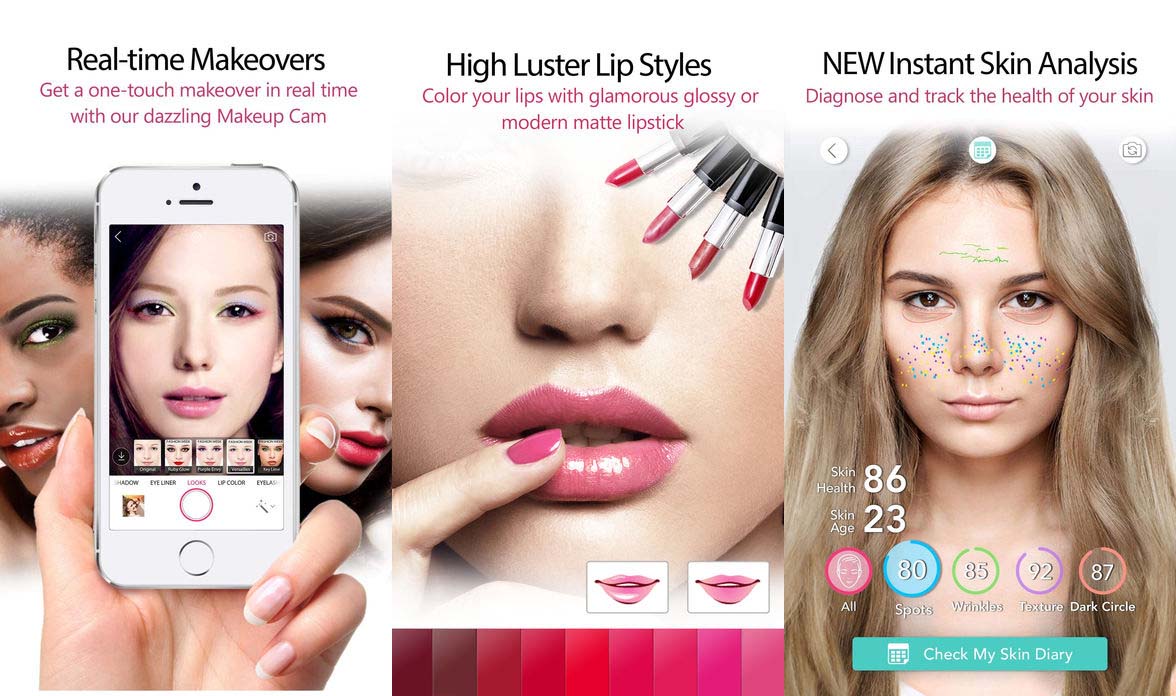 The world's number one Makeover app.
Hundreds of makeup products and beauty products from leading brands offer free trials on camera in mobile.
With Intelligent Face Detection
This will allow you to make fresh makeup through the
YouCam Makeup
app
in real time.
Or choose from photos in the album as well.
YouCam Makeup
has quite a few features to cover.
From the effects, change the look of the face by the filters available and download hundreds more in the future.
Or make up through makeup tools such as lipstick, lipstick, eyeliner, eyelash, eyeshadow and eye color can be made simple and realistic.
Also, during real-time makeup.
You can also record a short video or make a video of your makeup to share with friends.
And another important feature of the YouCam Makeup app is the one-touch skin analysis mode.
One-Touch Skin Analysis
A mode that will help you to analyze your skin and age, from dark spots, wrinkles, dark circles, dark circles and dark circles to your skin. Improve your facial health at any time.
Just use skin analysis mode only once a day.
Beauty Live Streaming
In addition to the real-time makeup mode.
The app also has a
Beauty Circle
online
community
that will allow you to watch the live streams of Celexa who will show off their professional makeup and live chat as well as chat. With professional and professional makeup.
Learn tips and new makeup trends from the
Beauty Circle
community
via
Instagram
,
Twitter
,
Linked in
and
YouTube.
Download the YouCam Makeup app.
Area: 164 MB Supports iOS 9.0 and up (iPhone, iPad, and iPod Touch)
Download the free
YouCam Makeup-Magic Selfie Cam
app
in the
App Store.