Raising eyebrows or moving your nose to win seems to be the slogan of the developers of
two popular games, based on the TrueDepth technology of the iPhone X,
which have become viral a few days after its launch in the App Store.
The first of these trends has been called Rainbrow and is essentially a game that is controlled by the user raising and lowering his eyebrows
so that the character moves up or down to avoid several obstacles.
According to
9to5mac
,
Rainbrow was designed by the designer and developer of iOS, Nathan Gitter,
who took the TrueDepth camera system on the iPhone X to follow the eyebrow movements of iPhone X users. As a result, the game can not be played on devices without a TrueDepth camera system.
Play on the iPhone X using your face as a controller
Following the same philosophy of Rainbrow,
the company of Dwyser has developed a second game called Nose Zone and is also controlled with TrueDepth data.
This allows users to use their nose as a controller to destroy incoming targets.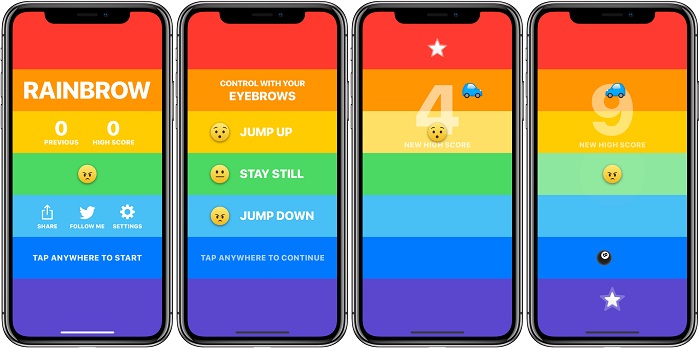 As shown in the description of the game, the instructions are simple:
Using the power of the new TrueDepth 3D camera, Nose Zone turns your face into the controller.
Your face is the controller.

And your nose shoots lasers.

Nose Zone for

#iPhoneX

pioneers a new genre of face-based

#AR

#games

.

Get it

#free

on the App Store:

https://t.co/b3kwu4Qk7q

#screenshotsaturday

#indiegames

#indiedev

#gamedev

#madewitharkit

#arkit

pic.twitter.com/JzJInQs72m

- Brad Dwyer (@braddwyer)

December 16, 2017
The TrueDepth camera of the iPhone X will be exploited in many ways, but the games so far are one of the funniest utilities in which its potential has been demonstrated.
So, these recent samples are great implementations of the TrueDepth sensor and do a great job to show how versatile the technology can be.
There are endless possibilities for developers to experiment here and it will undoubtedly be exciting to see how applications evolve and progress.